How Our Project Management System Works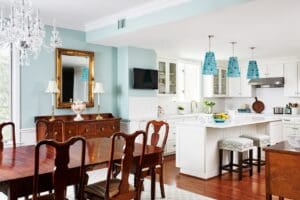 For most remodeling companies, the highest priority is often getting the job done correctly and up to standard. However, at InSite Builders & Remodeling our highest priority is a little different. While constructing a stunning remodel comes in at a close second, our number one goal is always to create lasting relationships based on trust, respect, and care.
To do this, we've created processes that are unique to us, not least of which is to assign a project manager that is fully dedicated to your renovation. This is one of the most important ways that we keep you involved throughout your remodel.
What Does Your Project Manager Do?
During the twenty (plus!) years we've been in business, we've created and fine-tuned processes that are centered around making our clients' lives easier during what can be a stressful time. Today, our team operates like a well-oiled machine, and much of that success can be credited to our hardworking project managers.
Essentially, your project manager acts as your personal point of contact throughout your project. You can reach him/her any time you have a question, a suggestion, or if you just want an update on the status of your renovation. Your project manager is dedicated to keeping you involved as your project progresses, and they also coordinate and support the team of craftsmen that will shape your home. Your project manager is your advocate during the process, making sure that valuable time and money are saved by helping craft your remodel according to your needs and specifications.
When Does Your Project Manager Come Into The Picture?
At InSite, we believe that preparedness is one of the most important factors in success. We do everything we can to prepare all members of our team for each and every renovation we undertake so that we can deliver consistently breathtaking results. Since our project managers take such an active role, they are among the first to know when a new remodel is in the works. With our team of experts, we know that there is a "right person" for every step of the process. That is why during your project, you will have one project manager for the design portion of your remodel, and another during construction.
Your project managers are assigned to your remodel very early in the process and during the transition from design to construction, all of the nuances and finite details of your project are relayed to your construction project manager.
One of our project managers put it this way:
"Understanding a customer's expectations is always rule #1 and that's where I begin. During the preconstruction meeting, I ask questions that no one else has so that I can understand beyond the sticks and bricks of a renovation what is most important to my client. As PM, the client is my top priority, and it is my job to advocate on their behalf and to produce the end product they desire and the value they expect."
Your Project Manager's Role In The Remodel Itself
From design to construction to the final walk-through, your project manager will be your advocate. As the design phase of your remodel kicks off, you may be feeling excited about the prospect of putting together the home of your dreams. Your project manager will often attend internal design meetings so that they can gain a deep knowledge of your vision from the very beginning. The more they know, the more effectively they can direct your team of craftsmen during the construction phase.
As part of the hand-off from the design team to the construction team, we hold an internal meeting in which we discuss every aspect of your remodel. We make a plan going forward based on the input from everyone present so that we can streamline the process as much as possible. After the internal hand-off, your project manager will meet with you one-on-one to discuss the plan, timeline, and address any concerns you may have.
When everything is ready to move forward, your project manager will schedule a regular weekly in-person meeting with you. These meetings are a reliable, planned way to keep you updated on the progress of your renovation. In addition, your project manager will be on your job every day, and you can call him/her any time you have a question or concern.
We've developed extensive checklists to make sure no important detail is missed. Our team works hard to make sure every remodel goes as smoothly as possible. However, as with any vision, sometimes there are bumps in the road along the way. They are unavoidable, but having a dedicated point of contact makes it much easier to know where the project stands and what the plan is to solve the issues.
In the words of one of our experienced project managers: "a career in construction has taught me [to] always expect the unexpected. Junction boxes in walls; irregular framing; jerry-rigged electrical wires; a toilet that was yanked out of the floor and replaced by a piece of furniture…the list of surprises I've encountered over the years is endless. By anticipating that all of the moving parts and pieces of a home renovation rarely come together smoothly or easily, I rely on teamwork, perseverance, and experience to successfully grab a job and wrestle it into submission."
To us, each remodel is a work of fine craftsmanship, and we hope to be able to put our skills to work for you. If you have any questions, we encourage you to speak with one of our team members at (301) 263-9700.