What Bathroom Remodel Cost To Expect When Remodeling a Bathroom in Bethesda, Maryland
If you are considering remodeling one of your home's bathrooms, you probably have some idea of the changes you would like to make and the upgrades you would like to see. What you may not know, however, are the kinds of costs to expect in a bathroom renovation. While expenses will vary greatly, of course, depending on your home and your particular needs, it can be helpful to have a rough idea of what costs to expect when remodeling a bathroom.
Though the following figures are only estimates, hopefully, they will provide a starting point for determining a budget. The good news? When you work with InSite Builders & Remodeling, you can trust that we will be upfront regarding any costs associated with your project, so you will know exactly what to expect. We will work with you on a design that meets your goals and respects your budget, and we will use the highest quality craftsmanship to ensure your investment will stand the test of time. As with all of our renovations, our bathroom remodeling services are designed to create Clients for Life. We look forward to showing you what we can do for your home in Bethesda, Maryland, and throughout the surrounding areas of Chevy Chase and Washington DC, NW.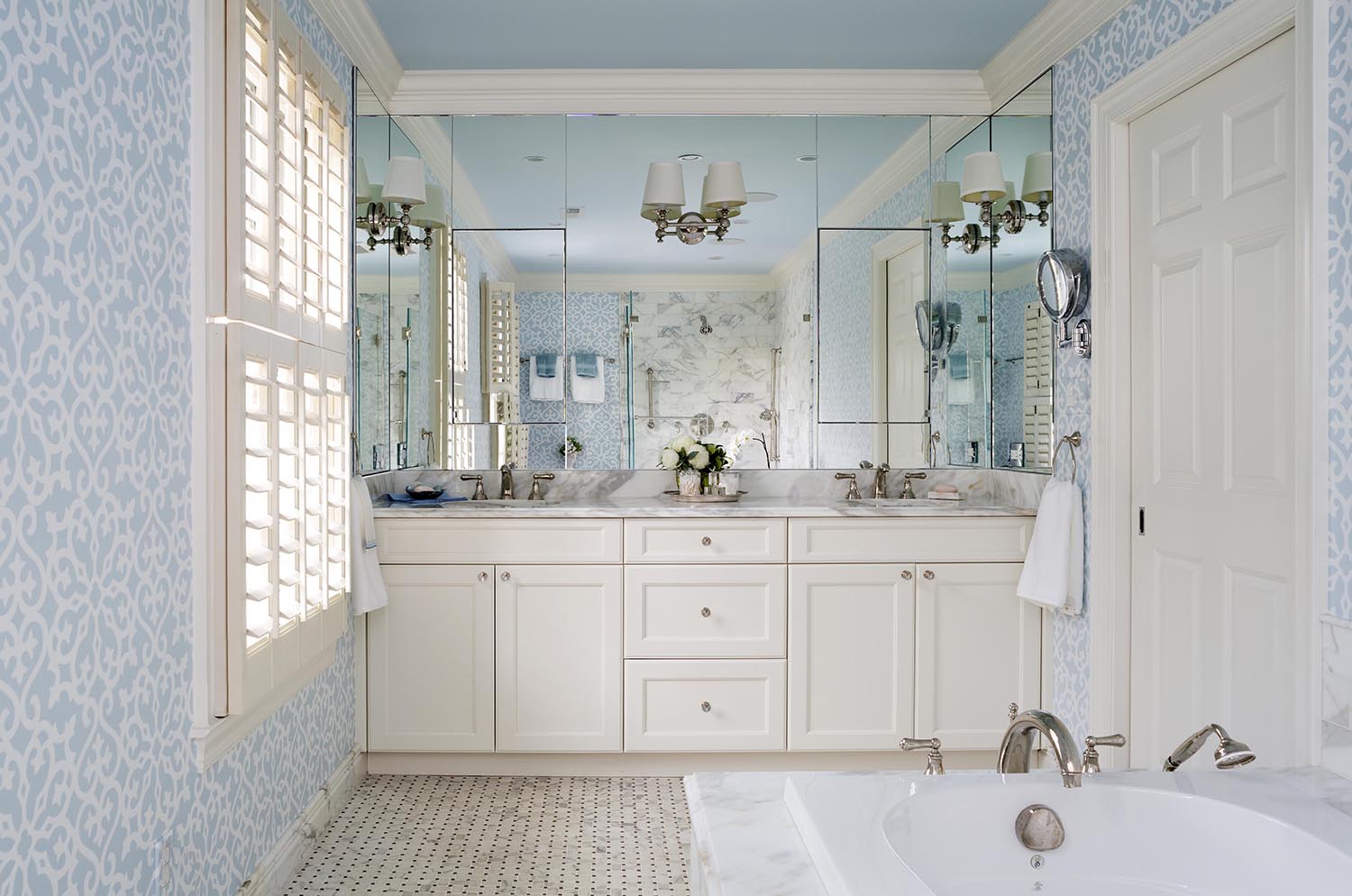 Breaking Down Your Bathroom Remodeling Cost
Let's get down to business. What is an expected cost range for a total bathroom remodel in Bethesda, Maryland? For a standard hall bathroom, the cost can range between $25,000.00 and $50,000.00. If you're looking to remodel a primary bathroom—generally 50 square feet or larger—the estimated range is between $60,000.00 and $125,000.00.
To help you better understand the major costs that are included in these figures, we will break down some of the most common choices and upgrades you might be considering.
Bathroom Flooring
New flooring is the foundation of many remodeling projects, and it can work wonders in giving your bathroom an updated look. The most common choices in flooring are ceramic tile or marble.
Each of these choices has its advantages. When it comes to your bathroom remodeling cost, a ceramic tile selection will contribute $800.00 to $5,000.00 to the overall cost; a marble selection will be a little more expensive, generally costing from $1,200.00 to $10,000.00 depending on the size of your bathroom and your style preferences. Style preferences include things like borders and patterns, and they can add to the cost of flooring.
Showers and Tubs
Whether it is the morning shower that gives a refreshing start to your day or a relaxing soak in the tub at the end of the day, a beautiful shower or tub in your bathroom gives a boost to your daily quality of life.
Installing a standard showerhead can range from $200.00 to $1,500.00, while options like a rain shower head or body sprays will cost anywhere from $500.00 to $3,000.00. Looking for an ADA accessible shower? Expect a curbless entry to cost around $2,000.00 to $4,000.00 depending on your specific layout.
Different types of shower doors will also affect the overall bathroom remodeling cost. A frame door is the lowest-cost option, typically ranging from $750.00 to $2,000.00. For a frameless or barn door-style expect the cost to fall between $1,800.00 and $4,500.00.
Finally, there's the soaking tub option. It is often the centerpiece of a bathroom and heightens the overall atmosphere of the room. If you are considering a soaking tub in your bathroom renovation, it will contribute between $1,000.00 and $8,000.00 to the total cost of your project.
Heated Floors
Though sometimes overlooked, nothing beats stepping out of the shower onto a warm floor. In a hall bathroom, a heated floor can range between $800.00 and $1,200.00, and in a larger primary bathroom the average cost is between $1,800.00 and $4,500.00.
Mirrors
In addition to function, mirrors elevate the look of a bathroom and can make it appear more spacious. One possible option is a whole wall mirror which will range from $1,500.00 to $3,000.00 depending on the size. A custom mirrored medicine cabinet is another popular choice, generally costing between $1,000.00 and $5,000.00.
The costs of other standard mirrors will range from a few hundred dollars in a hall bathroom up to $1,500.00 in a master bath.
Steam Shower
Adding a steam shower to your primary bathroom is another option for those considering a larger, more comprehensive remodeling project. The addition of a steam shower will cost between $6,000.00 to $10,000.00 depending on the layout and size of your bathroom.
Countertops
When it comes to countertops, quartz and marble are the most popular choices for a bathroom. Both of these selections will cost between $600.00 and $1,200.00 in a hall bathroom and could be up to $5,000.00 in a primary bathroom.
Lighting
There is an endless variety of lighting fixtures available to match the overall style and aesthetic of your bathroom. Most recessed lighting will range from $150.00 to $300.00 and could be up to $750.00 in a primary bathroom. For sconce-style lighting, expect the cost of the selections to be slightly higher from $300.00 to $1,600,00.
Know What to Expect with InSite Builders & Remodeling
With such a large range of possible options and costs for your bathroom renovation, it is helpful to think about your style and design choices ahead of time. When you work with InSite Builders & Remodeling, you can trust our team for transparent communication on every aspect of your project, including the costs. We make sure everyone is on the same page before any work begins, and we are committed to your satisfaction both in your home's final design and throughout the entire process itself.
We are proud of the work we have done in Bethesda, Maryland, and across Upper Northwest DC. Through the relationships we build with clients, we hope to contribute to the beauty of our area homes and to improve the quality of life for our homeowners. Get in touch today to discover what we can do for you and your home!