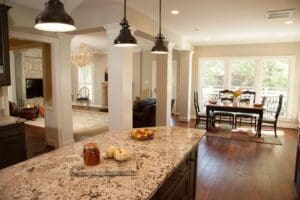 There are no two ways about it: if you're considering remodeling your kitchen, bathroom, or even your entire home, you have a lot to think about.
Everything from prices, timelines, and resale value to finishes, materials, and hardware has to be meticulously selected in order to ensure that you get the best bang for your buck. The process can get exhausting. Oftentimes, frazzled homeowners find themselves forgetting what the most important decision of all is during the process: who will be helping you with the project?
Some people opt for a DIY approach to remodeling. For those that feel a little less handy, it's common to partner with a design-build remodeling company. These companies help homeowners sort out budgets and timelines before guiding them through the process of turning their dream remodel into a reality. The problem? Finding the right team of professionals comes along with its own concerns.
For better or worse, remodelers and general contractors have picked up a negative reputation in the industry through bait and switch remodeling tactics. Plenty of homeowners have run into teams who fail to show up on time, communicate as necessary, or stick to monetary and time constraints. Many remodelers leave behind what looks like the aftermath of a tornado once they've finished work; some are even rude, inconsiderate, and demeaning.
At InSite Builders, we work hard to fight against these stigmas and provide meaningful, memorable services. Our team is committed to open communication and thorough handiwork. But not all contractors and remodelers are created equal. How can you separate the good from the bad and make an educated decision?
It comes down to knowing which questions to ask. Below, we've outlined a handful of questions that you should ask any remodeling company before signing your name on the dotted line. Whether you're paying tens or even hundreds of thousands of dollars for your remodel, you deserve to partner with somebody you can trust.
Questions and Topics to Address With Potential Contractors
What licenses and insurance do you have?
You should never hire contractors or remodelers who can't provide proof of appropriate licenses and insurance. It's a danger to you, your property, and your project. Look for teams who operate above the table and can provide ample documentation of everything that proves their trustworthiness and skill.
Have you taken on projects similar to this one?
Ideally, the answer will be yes. Everybody starts somewhere, but do you really want your contractor taking on the first project of any kind inside of your home? Look for teams who have extensive experience handling projects just like yours.
An affirmative answer is only half of what you're looking for. Press further and ask if you can see photographs or make a visit to get a peek at the contractors' prior work. You can also see whether you're able to connect with old customers over the phone. If they're hesitant to share details, it's probably for a reason– be wary of teams who won't give references or show you the results of past jobs.
In this vein, you should always ask for the following when possible:
Videos
Reviews
Testimonials
Case studies
What makes you unique?
Contractors and remodelers are a dime a dozen. You want a team that's a cut above the rest and stands out in a crowd. If a company can't explain to you (clearly and concisely) why they're a step up from the competition, it could be a red flag.
The desired answer to this question will vary from homeowner to homeowner. If you prioritize budget, perhaps you want a team who answers that they're able to source their materials for jaw-dropping prices. If relationships are more important, look for somebody who's clearly dedicated to building and fostering one; if you value high-end design with amazing materials, make sure they can speak to that as well.
Who will run my job?
You're going to need to be able to work and communicate amicably with whoever is running your remodel. Get to know the top dog and have a one-on-one conversation to make sure you're a good fit. Once you're speaking to a head contractor or remodeler, hit them with a few questions just for them:
How often will I see you?
What will we do if there's a misunderstanding?
Will you and your team respect the house rules?
How will you resolve issues that will inevitably arise?
If materials come in late or broken, what is your policy for continuing the job?
What is the most important thing to your company when it comes to remodeling?
You should always know where somebody's priorities lie before getting too close to them. Your remodeler is no exception to this rule. Ask your team what they excel at and where they need to improve. If they're quick to brag but hesitate to offer suggestions for self-improvement, you may want to take a step back and reassess.
Scope out teams who are great at what you need and whose weaknesses won't impact your project. It'll take time to find a Goldilocks fit, but the search will be worth it. Try asking what different teams are working on internally to get a sense of their ambitions for improvement.
Partnering with InSite Builders and Remodeling
Asking the right questions before hiring on a remodel team or contractor for your project is essential. It's the only way to come to a well-informed decision on which company to trust with and inside of your home.
The InSite Builders and Remodeling team works hard to fight the stigmas that surround professional remodelers and bait and switch remodeling tactics in the industry. We aim to curtail customer concerns through the prioritization of communication. Our team works closely with your family to determine a budget before springing into action as a trusted partner– not a know-it-all company who's only concerned with telling you how the process will play out.
Our "Client for Life" philosophy means that you'll always be able to count on our unwavering support. We seek to establish trust with our clients and earn a deep understanding of what they need in a remodel. The care we pour into every project extends long after we leave your home; our goal is to earn your trust as a client for life.
If you're in the Bethesda, Washington DC, or Chevy Chase areas and are interested in learning more about our services, get in touch with us today. A friendly, knowledgeable team will be eager to address your questions and concerns. Who knows– you may just end up landing yourself a partnership for your next remodel.