Innovative Basement Design for Chevy Chase, Maryland Home
Sometimes basements are treated as an unnecessary add-on. This often dank and damp space in your home may seem more like a burden than an authentic part of your lovely home. That's the reason we enjoy working with our clients and assisting them in makeovers that are, in our opinion, outstanding. Where there was once an uninviting space, you can create a sleek and comfortable room of your choice.
Chevy Chase, MD is home to many historically-rich and character-filled homes. From time-to-time, owners are looking to add updated or renovated styles and designs to their already classically designed home elements.
But, above everything else is our desire to become a trusted partner on whom you may call about any renovations you need, including basement design services. When we discuss your plans, you will know that your goals, questions, and concerns are heard and understood by our team. We will stay within your budget, and your finished product will amaze and delight you. Our three core values will be first and foremost during your project: trust, communication, and quality.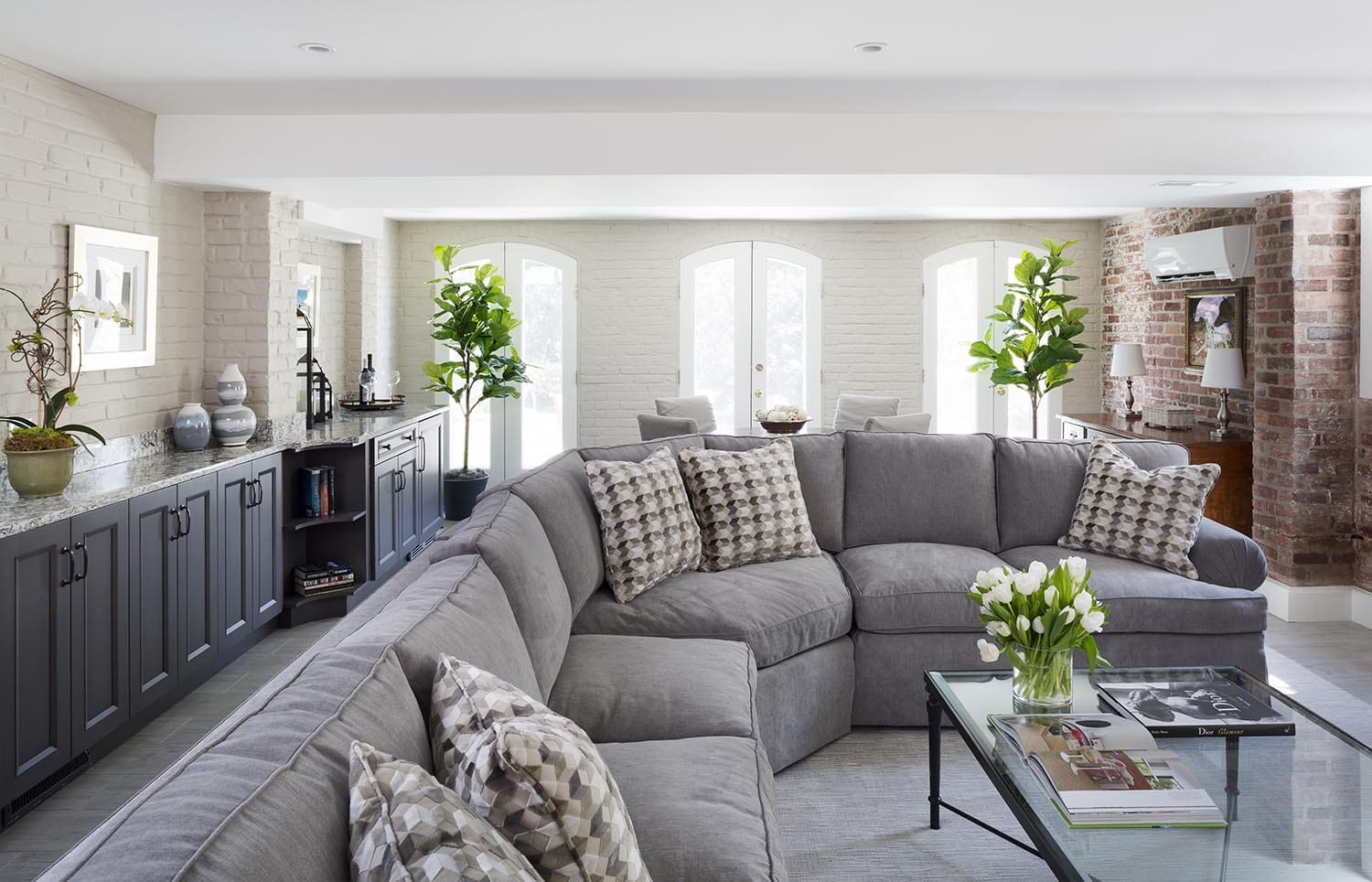 Restoring Your Chevy Chase, MD Basement
Wouldn't it be grand if your rarely-used basement became a regular gathering room/living space for friends and family? We have been a part of some of the most handsome and useful new basement dens in basement design for the Chevy Chase, Maryland area.
In most cases, the homes we improve have solid "bones." It's not unusual for us to begin a basement project and find that brick walls emerge. These types of serendipities are what make our jobs satisfying. Such discoveries get our customers excited about their decision to remodel, as well. We can change your basement into almost anything you can imagine.
Take a look at our portfolio for some inspiration and some great ideas.
The InSite Process
What separates us from other renovation businesses is:
Our process - fine-tuned over 20 years of service
The fact that our customers have the chance to be an authentic part of every step
That we tailor your job to your individual needs and wants
Our company can bring your vision to fruition
We go further than providing the basics
Our team values you as a customer
That our goal is gaining your trust
We want to make you a life-long client
Here are the highpoints of our procedure:
1. Get in Touch with Us
We will ask for some necessary information, and we will schedule a time to meet with you and your loved ones in your home. If needed, we will be joined by one of our architects or designers to answer the questions about what you must have and what you wish to have. We might also need a plat and legal description to remain aware of any lot or legal limitations.
2. Initial Meeting
Once we have gathered at your home, we will complete a walk-through to determine your "target investment amount." Usually, at this point, we can give you a ballpark figure of what the project will cost and discuss how that number fits into your estimated budget. This meeting is critical. We want to prevent surprises and ensure that everyone is on the same page.
3. Second Meeting
Our second meeting involves the signing of a Letter of Agreement. Once signed, the process of designing and pricing your renovation or remodel has begun. Now comes the fun part. You and our team start the discussion of which products are selected. We require a small fee when you sign your agreement letter. The payment is based upon the amount of work and time involved in producing a well-considered estimate. We can give you our price for sub-contracting our architect/design team if you so choose.
4. Measurements and Design
The architect and designer come to your home. They must ascertain the size of the space and create a preliminary sketch. Once the design work is completed, we will meet again as a group to review it and get feedback and approval from you.
5. Preview
A subcontractor preview allows our craftsmen to see your home and answer any questions you may have. Our subcontractors' expertise will enable us to receive feedback concerning:
Suggestions for improvement
Cost-saving ideas
The feasibility of the project
6. Product Selection & Estimate
This step allows InSite Builders & Remodeling to create a more detailed estimate that is significantly more accurate. Now is also the time when we can provide options for that enable staying within your budget. It also allows you to create the space of your dreams.
7. Finalize Plans & Budget
Once everyone agrees on the schematic budget, updates on the scope of the project, and your selections, we will review the construction process with you in a way that is clear and concise. The architect will finalize your drawings; then subcontractors will review them again and revise estimates when needed.
8. Sign Contract
At this time, we will present and discuss the final contract to ensure it is what you want. This last step and all the others we have covered result in higher client satisfaction, fewer surprises or disappointments, and hopefully, a Client for Life.
InSite Builders & Remodeling - What Sets Us Apart
We Deliver on Our Promises
Our business involves homeowners inviting us into their homes and asking us to redesign a space in a house in which they have lived for many years. This fact is both humbling and pride-inducing. We are encouraged by the trust our clients put in us.
Design Expertise
In and around the Washington, D.C. area, there is plenty of history. Our architects and designers understand this and can blend in updated, more functional design while keeping the integrity of the home's historic architecture.
3-D Renderings in Virtual Reality
InSite Builders & Remodeling offers models of your project through 3-D renderings in a virtual reality environment that produces a realistic platform for you to visualize your new space.
Process, Communication, and Complete Transparency
Our process is transparent, fine-tuned, and informative. We will apprise you of everything that is happening and how things are going every inch of the way.
To find out more about basement design for your Chevy Chase home, contact us today for the design, construction, and remodeling projects for which you have been longing. Discover how enjoyable it can be to have a home that fits your every need.